the problem with samsung's bespoke appliances
july 8th, 2022 | 4 min. read
i included samsung bespoke in our kitchen appliances you should never buy article.
it seems like a curious choice, given that we are looking for alternatives to stainless steel.
bespoke offers four different finishes for the range, microwave, and dishwasher.
the refrigerator has a whopping 11 finishes in glass and steel.
how it incorporates into your kitchen design is the biggest issue.
this article is about kitchen design and why bespoke, however well-intended, will fail in your home and the marketplace.
let's get started.
[inlinecta]
samsung
for two reasons, samsung became the most popular brand in the us in an incredibly short time.
first, they introduced technology into appliances with better controls and options.
sometimes they took it too far with innovations like reimagining a dishwasher with a "waterwall" instead of wash arms.
but, more importantly, they introduced the style to appliances with softer edges and better aesthetics.
their appliances are beautiful, and you don't have to spend a fortune to buy a nice-looking kitchen.
to that end, they revolutionized the appliance industry. you were comparing a box from another manufacturer to almost a work of art from samsung.
i have been at yale for 37 years, and samsung is one of the best innovators in appliances because it forced all the companies to reimagine their products.
now you can buy good-looking appliances from many companies such as ge, beko, lg, and even whirlpool.
however, with bespoke, samsung may have gone too far.
the problem with samsung's bespoke appliances
the problem with samsung's bespoke design is the color selection.
there are two levels of bespoke. let's look at the color selection for the range, microwave, and dishwasher.
bespoke range, microwave, and dishwasher
black
first, you should never buy black stainless from any manufacturer because it is an oxide coating over stainless.
the coating is scratchable and will show the stainless undercoating.
it is not repairable or covered by your warranty. i could explain further, or you could watch this video:
tuscan brown
brown is doomed as a color.
my grandfather sold it as coffee, my dad as cappuccino, and i sold it as truffle brown.
people don't like brown because metallic or glass brown never matches brown cabinets.
every manufacturer has tried brown. jennair called it oil-rubbed bronze (i liked it).
miele called it truffle to no avail.
samsung is the only company selling brown still, calling it tuscan.
it won't work.
navy
next is navy. i like blue, but it's not as popular as the lighter colors like orange or yellow.
i am not a style influencer. i can only theorize lighter colors brighten your kitchen, whereas darker colors like blue and black do not.
so, that leaves us with samsung's stainless finish.
stainless

steel is popular because it matches every cabinet color.
yes, it also looks good with the many shades of white you are considering now for cabinets, along with your gray counters and geometric subway tile.
now let's look at the refrigerator.
samsung bespoke refrigerator
have to admit, i love playing on samsung's website by "bespoking" my refrigerators.
it's fun. try it.
you have plenty of color choices.
in glass, you have white, matte grey, clementine (orange), sunrise yellow (yellow), charcoal (black), morning blue (light blue), and pink.
in steel, you have stainless, navy, emerald (dark green), matte black, and tuscan (brown).
we all want choices. so, what could be the problem?
in good design, the refrigerator is never in the middle of your kitchen.
it's always off to the end because you do not need to be in your refrigerator the same way.
let's look cover the basics of designing your kitchen. we have webinars and other posts if you want to go in-depth.
good kitchen design practices
you only have to remember three elements to design your kitchen correctly:
the proximity of your stove, sink, and dishwasher.
you are at the sink the most in your kitchen so centralize it.
then place your stovetop close by so you do not have to go back and forth.
think of burning food on your stove. the first place we look to put out the fire is our sink.
and here is my sister's kitchen (she builds houses for a living):
my favorite kitchen is drake's. he may be one of the best rappers, but he knows how to design a kitchen.
look at the proximity of the stove to the sink these two examples. you only need to move back and forth in just one step.
now, look at drake's stove.
the la cornue chateau range. sure, it costs $125,000 plus shipping, but look where he introduces color.
in the middle of his kitchen as a focal point.
his refrigeration is covered in panels on the left.
look at some other kitchens: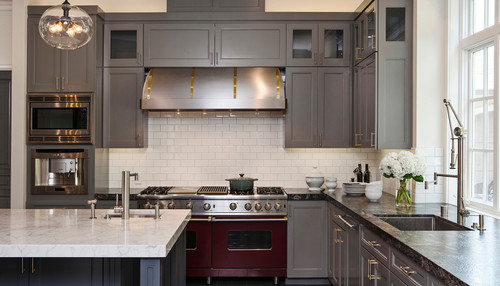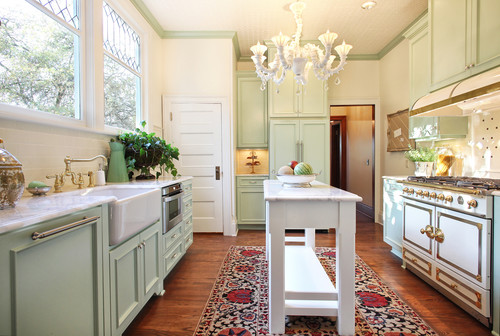 the range is the focal point. that is where you should place color.
when you should buy samsung bespoke
bespoke works in a galley or smaller kitchen because every appliance is the focal point.
the refrigerator could also be a highlight if your kitchen opens to a family room.
just design your own and look at your kitchen plan.
what samsung can do to improve bespoke
they should focus on the range. start with white and black, as café appliances did:
add some accents as well.
bertazzoni has several colors. bluestar has 1000 assorted colors. impossible for a large company but start with six and work from there.
key takeaways
it's a good idea but on the wrong appliance.
black stainless and tuscan are not suitable finishes.
if you want to add color to your kitchen, add it to the range.
still, bespoke has a certain appeal in limited applications.
samsung could improve the line by adding some stove color options rather than discounting the refrigerator by 33%.
or maybe they are giving up?
what do you think? feel free to comment below.
additional resources
want more information on the worst renovation mistakes to avoid? getthe book of bad renovationsto learn how to avoid a renovation failure. well over 1 million people have read and trusted a yale guide.
related articles
why should you trust us?
it seems that every appliance review has nothing but glowing comments about almost every product, yet you read customer reviews and they are almost universally bad.
we are here to fill in the disconnect. we'll give you the best features, and the drawbacks as well, including reliability based on over 37,000 calls performed by our service team just last year.our goal is to give you all the information so you know what's right for you.
please consider subscribing or adding to the conversation in the comments below. we appreciate you stopping by.
steve sheinkopf is the third-generation ceo of 塞内加尔vs荷兰比赛直播 and a lifelong bostonian. he has over 38 years of experience in the appliance industry, and he is a trusted source of information for consumers on how to buy and repair appliances.

steve has also been featured in numerous publications, including thenew york times,consumer reports,the boston globe,bloomberg radio,thenew york post,the wall street journal,andentrepreneur,for his knowledge of how to buy appliances and appliance repair.

steve is passionate about helping consumers find the best appliances for their needs, and he is always happy to answer questions and provide advice. he is a valuable resource for consumers who are looking for information on appliance buying, repair, and maintenance.

despite being the worst goalie in history, steve is a fan of the bruins and college hockey, loves to read, and is a peloton biker. the love of his life is his daughter, sophie.
a note about pricing
pricing on this blog is for reference only and may include time sensitive rebates. we make every attempt to provide accurate pricing at time of publishing. please call the stores for most accurate price.